Welcome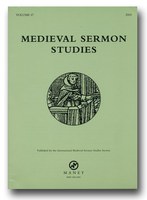 The International Medieval Sermon Studies Society (IMSSS) promotes and fosters the study of medieval sermons and preaching in Latin and the vernacular languages within their social, literary, religious, intellectual, theological, catechetical, political and historical contexts.
The Society also promotes and fosters the study of various artes praedicandi, and theories of preaching derived from them, as well as material used by sermon writers (e.g., Florilegia, commentaries, etc.).
For more information, please see About IMSSS. 
Join the discussion on our mailing list (members only) and in our Facebook group
Preaching and Political Society from Late Antiquity to the End of the Middle Ages / Prédication et société politique depuis l'Antiquité tardive jusqu'à la fin du Moyen Âge
When

Jul 18, 2008 08:00 AM

to


Jul 22, 2008 05:00 AM

Where

Saint-Maurice (Valais, Switzerland)

Add event to calendar

vCal




iCal
The symposium will be held in Saint- Maurice (Valais, Switzerland), about 1 hour 30 min. (by train) from Geneva, 3 hrs from Zurich and 3 hours 50 min. from Milano: the website of Saint-Maurice tourisme: (http://www.saint-maurice.ch/)
The Conference Location: Foyer franciscain de Saint-Maurice (website: http://www.capucins.ch/article.php3?id_article=1)
Details about the conference program are available in this document.

Click on the following links for: