Welcome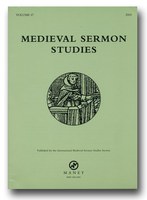 The International Medieval Sermon Studies Society (IMSSS) promotes and fosters the study of medieval sermons and preaching in Latin and the vernacular languages within their social, literary, religious, intellectual, theological, catechetical, political and historical contexts.
The Society also promotes and fosters the study of various artes praedicandi, and theories of preaching derived from them, as well as material used by sermon writers (e.g., Florilegia, commentaries, etc.).
For more information, please see About IMSSS. 
Join the discussion on our mailing list (members only) and in our Facebook group

This past July, Flagler College in beautiful St. Augustine, Florida, hosted the 20th biennial symposium of the International Medieval Sermon Studies Society, the first symposium to be held in North America.
St. Augustine is the site of the first North American mission, so the theme chosen for this year's symposium was Preaching and New Worlds. Topics ranged from medieval perceptions of new worlds to images of missionaries in Italian Renaissance art and sermons to the translation of exempla into the Timucuan language, a language spoken by the Native Americans in La Florida.
IMSSS members came from all over the globe to attend the symposium, including France, Italy, Spain, England, Israel, Japan, Russia, and the United States. We all enjoyed the sunshine and Flagler College's wonderful hospitality. Thanks to Tim Johnson for making this year's symposium a great success!​
See full information about the IMSSS Symposium event at Flagler.edu.