Welcome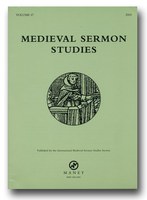 The International Medieval Sermon Studies Society (IMSSS) promotes and fosters the study of medieval sermons and preaching in Latin and the vernacular languages within their social, literary, religious, intellectual, theological, catechetical, political and historical contexts.
The Society also promotes and fosters the study of various artes praedicandi, and theories of preaching derived from them, as well as material used by sermon writers (e.g., Florilegia, commentaries, etc.).
For more information, please see About IMSSS. 
Join the discussion on our mailing list (members only) and in our Facebook group
23rd International Medieval Sermon Studies Symposium This will be a hybrid conference. A final decision about format will be made by April 1.
When

Jul 15, 2022 08:00 AM

to


Jul 19, 2022 05:00 PM

Where

University of St. Thomas, St. Paul MN, USA

Contact Name
Steven McMichael
Add event to calendar

vCal




iCal
Call for Papers
Program Chair: Professor Steven McMichael 
Associate Professor, Department of Theology, University of St. Thomas 
The International Medieval Sermon Studies Society invites early career researchers and established scholars to submit proposals for 20-minute papers on the subject of Preaching and Gender. We encourage papers from all global areas and religious traditions for the approximate period 500-1500 CE. We welcome papers on themes including but not limited to:  
masculinities and femininities,  

gender roles and models,  

women preachers,  

preaching to or about men/women,  

contributions of queer theory and gender studies to sermon studies,  

gendered language and/or performance,  

intersection of gender with other categories (e.g., status, occupation, ethnicity, spirituality, age), 

gender fluidity and sexualities.  
Proposals should include: 
Paper title 

A description of 300 words or less 

Presenter name and institutional affiliation, if applicable 
The deadline for proposals is October 1, 2021. Proposals should be sent to Professor Steven McMichael ([email protected]). 
At the 2018 IMSSS Symposium in Bristol, Anne Thayer shared her reminiscences of the Society's founding Secretary, Phyllis Roberts, who had passed away earlier in the year. Phyllis had been an outstanding scholar and an even more superlative colleague and mentor to sermonists young and old, and Anne spoke for all of us in expressing our collective affection and sense of loss. The symposium was dedicated to Phyllis's memory.
The link address is: https://www.youtube.com/watch?v=ZUTXCuirb7w