Welcome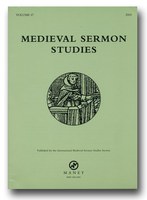 The International Medieval Sermon Studies Society (IMSSS) promotes and fosters the study of medieval sermons and preaching in Latin and the vernacular languages within their social, literary, religious, intellectual, theological, catechetical, political and historical contexts.
The Society also promotes and fosters the study of various artes praedicandi, and theories of preaching derived from them, as well as material used by sermon writers (e.g., Florilegia, commentaries, etc.).
For more information, please see About IMSSS. 
Join the discussion on our mailing list (members only) and in our Facebook group
Bristol, United Kingdom / July 15-20, 2018
MEDIEVAL MONKS, NUNS & MONASTIC LIFE
Organizer: Professor Carolyn Muessig
Head of the University of Bristol's Department of Religion and Theology and Co-Director of the Centre for Medieval Studies
Registration is now closed 
If you have questions about the symposium, please contact us at [email protected]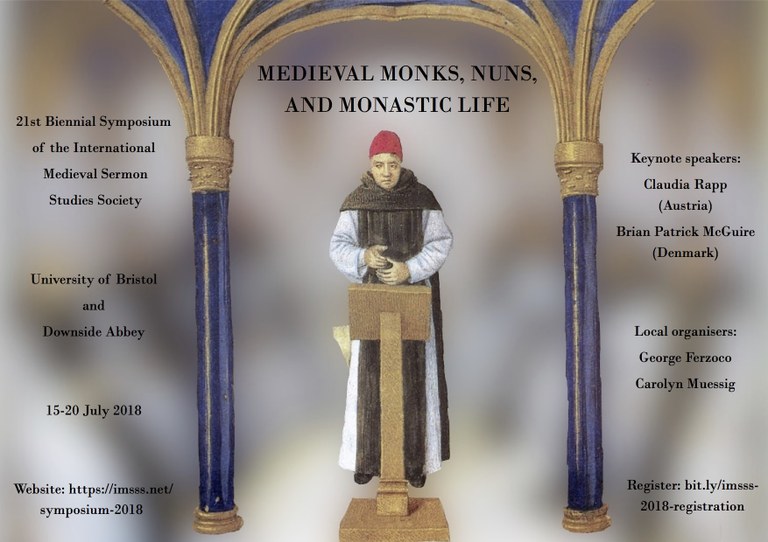 KEYNOTE SPEAKERS INCLUDE CLAUDIA RAPP (AUSTRIA) AND BRIAN PATRICK McGUIRE (DENMARK)
The 2018 IMSSS symposium will explore the breadth and depth of sermon literature and preaching activity relating to monks, nuns, and monastic life, and serve as a microcosm of the religious and cultural landscape of the Middle Ages.
The symposium will be based in the beautiful grounds of the University of Bristol's Wills Hall, and will include a workshop at historic Downside Abbey, with its medieval manuscripts, incunables, and Centre for Monastic Heritage. We will also visit Wells Cathedral, as well as the medieval sites of Bristol. 
See the programme (PDF) or click on the image below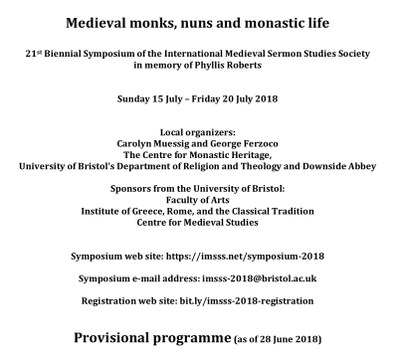 View information on rates for registration and accommodations
View information about the main site of our Symposium, the University of Bristol's beautiful Wills Hall
All details at: