Welcome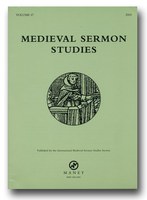 The International Medieval Sermon Studies Society (IMSSS) promotes and fosters the study of medieval sermons and preaching in Latin and the vernacular languages within their social, literary, religious, intellectual, theological, catechetical, political and historical contexts.
The Society also promotes and fosters the study of various artes praedicandi, and theories of preaching derived from them, as well as material used by sermon writers (e.g., Florilegia, commentaries, etc.).
For more information, please see About IMSSS. 
Join the discussion on our mailing list (members only) and in our Facebook group
Updates about Symposia and Kalamazoo
Dear IMSSS Members,
I am delighted to have two exciting updates to report.
First, our virtual Symposium this summer, "Conversions and Life Passages through the Mirror of Medieval Preachers," will take place via Zoom, 16-21 July. It will include keynote addresses by Francisco Gimeno Blay (Universitat de València) and Tahera Qutbuddin (University of Chicago), many interesting papers, a round table discussion on Sermons and Digital Humanities, and a poster session. Most events will take place between 17:00 and 20:00 Madrid time (11:00 and 14:00 New York time). The Symposium is free, but registration is required. Beginning May 15, simply send an email to [email protected] to request the Zoom link. Included here are the provisional program and information for participants. For more information, visit https://imsss2021.wordpress.com/.
Second, planning is getting underway for a 2022 Symposium at the University of St. Thomas in St. Paul, Minnesota, under the leadership of Steven McMichael. Over 50% of our members participated in our electronic voting, and 71% of those voting were in favor of this proposal. The tentative dates are July 22-26, 2022.
I hope to see many of you at our Kalamazoo International Congress on Medieval Studies sessions and business meeting, May 13-15. Details are available on the Society's website. https://imsss.net/congress/56th-international-congress-on-medieval-studies
Best wishes,
Anne Thayer
President
Updated 6 May 2021
2021 Symposium Is Now Virtual
Conversions and Life Passages through the Mirror of Medieval Preachers
The IMSSS Symposium this summer will be held fully online due to global health concerns.  While we are disappointed not to be meeting in Léon, Spain, we look forward to the rich program organized by Linda G. Jones and Oriol Catalán.
Presentations and discussions will be scheduled over a period of two weeks, from July 16 to 21, using Zoom or similar format. Please mark your calendars!
Instructions for the virtual symposium. 
At the 2018 IMSSS Symposium in Bristol, Anne Thayer shared her reminiscences of the Society's founding Secretary, Phyllis Roberts, who had passed away earlier in the year. Phyllis had been an outstanding scholar and an even more superlative colleague and mentor to sermonists young and old, and Anne spoke for all of us in expressing our collective affection and sense of loss. The symposium was dedicated to Phyllis's memory.
The link address is: https://www.youtube.com/watch?v=ZUTXCuirb7w