Welcome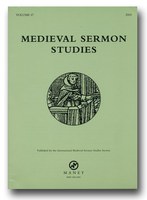 The International Medieval Sermon Studies Society (IMSSS) promotes and fosters the study of medieval sermons and preaching in Latin and the vernacular languages within their social, literary, religious, intellectual, theological, catechetical, political and historical contexts.
The Society also promotes and fosters the study of various artes praedicandi, and theories of preaching derived from them, as well as material used by sermon writers (e.g., Florilegia, commentaries, etc.).
For more information, please see About IMSSS. 
Join the discussion on our mailing list (members only) and in our Facebook group
We are delighted to announce that the first electronic election of the International Medieval Sermon Studies Society has been a success. Out of 85 members eligible to vote, 69 members voted. Anne Thayer has been reelected to the Council, and Jessalynn Bird, Pietro Delcorno, and Patricia Stoop have been newly elected.
The new Council has also met to elect its officers. Here is the new Council:
President: Anne Thayer
Vice Presidents: Linda Gale Jones and Patricia Stoop
Secretary: Jessalynn Bird
Treasurer: Pietro Delcorno
Councilors: Nirit Ben-Aryeh Debby, Beata Spieralska-Kasprzyk
Beginning in January 2021, Marjorie Burghart and Holly Johnson will replace Jonathan Adams and Ralf Lützelschwab as co-editors of Medieval Sermon Studies.
A big thank you to everyone who participated in our first electronic election and for your commitment to the IMSSS, and a big thank you to Kim Nguyen and Kim Rivers for making our first electronic election a success!
It is with great sadness that the Council of the International Medieval Sermon Studies Society has decided to reschedule the 22nd IMSSS Symposium (2020, Jul. 17th – 21th, León, Spain), as a result of the outbreak of coronavirus (Covid-19). The 22nd IMSSS Symposium has not been cancelled, but it has been postponed until July 2021. We'll meet back in León next year, free at last. Meanwhile, however, the foreseen balloting to elect the new Council will be carried out regularly thanks to eVoting. More information will be provided shortly.
Dear colleagues,
The Medieval Institute appreciates your concerns and patience regarding the 55th International Congress on Medieval Studies as we have carefully considered emerging information and discussed how best to proceed. The health and safety of our attendees and our community are our first priority. Due to the COVID-19 outbreak and the most recent recommendations of the CDC and the WHO regarding social distancing and public gatherings, we have made the difficult decision to cancel the Congress, which was scheduled for May 7-10, 2020.

Please see the Congress website for information about refunds, special and sponsored sessions approved for 2020, and other important details (wmich.edu/medievalcongress).

We look forward to seeing everyone next year.

Jana K. Schulman
Director, Medieval Institute
Western Michigan University