Welcome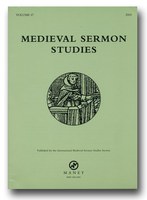 The International Medieval Sermon Studies Society (IMSSS) promotes and fosters the study of medieval sermons and preaching in Latin and the vernacular languages within their social, literary, religious, intellectual, theological, catechetical, political and historical contexts.
The Society also promotes and fosters the study of various artes praedicandi, and theories of preaching derived from them, as well as material used by sermon writers (e.g., Florilegia, commentaries, etc.).
For more information, please see About IMSSS. 
Join the discussion on our mailing list (members only) and in our Facebook group
Conversions and Life Passages through the Mirror of Medieval Preachers
When

Jul 17, 2020 10:00 AM

to


Jul 21, 2020 10:00 AM

Where

León (Spain)

Contact Name
Linda G. Jones
Add event to calendar

vCal




iCal
Registration now open!
See Program Information and Registration
Linda Jones – Host of the 22ndBiennial International Symposium of the IMSSS
"Conversions and Life Passages through the Mirror of Medieval Preachers"
Publication of a collection of essays, from the 2016 IMSSS Symposium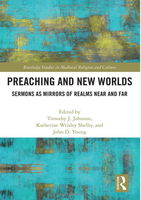 The collection of essays that came out of the 2016 IMSSS Symposium has been published:
Preaching and New Worlds: Sermons as Mirrors of Realms Near and Far, Routledge Studies in Medieval Religion and Culture, 1st Edition, by Timothy J Johnson  (Editor), Katherine Wrisley Shelby (Editor), John D Young (Editor)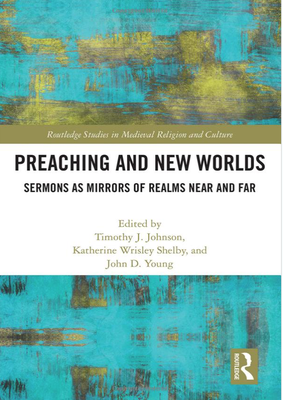 At the 2018 IMSSS Symposium in Bristol, Anne Thayer shared her reminiscences of the Society's founding Secretary, Phyllis Roberts, who had passed away earlier in the year. Phyllis had been an outstanding scholar and an even more superlative colleague and mentor to sermonists young and old, and Anne spoke for all of us in expressing our collective affection and sense of loss. The symposium was dedicated to Phyllis's memory.
The link address is: https://www.youtube.com/watch?v=ZUTXCuirb7w