Welcome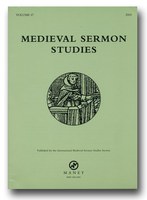 The International Medieval Sermon Studies Society (IMSSS) promotes and fosters the study of medieval sermons and preaching in Latin and the vernacular languages within their social, literary, religious, intellectual, theological, catechetical, political and historical contexts.
The Society also promotes and fosters the study of various artes praedicandi, and theories of preaching derived from them, as well as material used by sermon writers (e.g., Florilegia, commentaries, etc.).
For more information, please see About IMSSS. 
Join the discussion on our mailing list (members only) and in our Facebook group
Conversions and Life Passages through the Mirror of Medieval Preachers Casa de Espiritualidad y Ejercicios de la Virgen del Camino (Spain)
When

Jul 17, 2020 10:00 AM

to


Jul 21, 2020 10:00 AM

Where

León (Spain)

Contact Name
Linda G. Jones
Add event to calendar

vCal




iCal
See the Call for Papers

Linda Jones – Host of the 22ndBiennial International Symposium of the IMSSS
"Conversions and Life Passages through the Mirror of Medieval Preachers"
IMPORTANT UPDATE! CHANGE OF VENUE FOR IMSSS 22
Dear Colleagues, 
I am writing to give you an important update regarding a change of venue of the next the 22ndInternational Symposium of the IMSSS. Late last month the sub-prior of the Hospedería de los Dominicos in Caleruega informed me we will not be possible to celebrate our Symposium there next year because the Prior General decided to schedule their General Chapter meeting there during the same period. He suggested various alternative Dominican houses in Spain. After weighing all the options, I have come to an arrangement with the Friars to hold the next Symposium at the Casa de Espiritualidad y Ejercicios de la Virgen del Camino in Léon, located in northwest Spain (see the map).
While it was disappointing to have to change the venue, I am thrilled about the new location. I had the opportunity to stay at the Casa de Espiritualidad from August 11th to 14th. I had a splendid time and I am convinced that it will be a fantastic place to host the next IMSSS Simposium. The place has many advantages:
1) LOCATION: It is located less than 2 km from León's airport, which will make it much easier for people to get to than Caleruega. People flying in from outside of Spain should fly to Barcelona from where they can change to a direct flight from Barcelona to León. There is one direct flight a day as well as other indirect flights. If people coming from abroad fly to Madrid, they may take a bus or a train, details of which we will provide later.  It is also possible to get there on the Renfe Ave train. The Virgen del Camino is located only 6 km from the capital city of León, which has many extraordinary monuments of interest for a visit (see point 4, below).
2) INSTALLATIONS: 
See information about the facilities
 a) ROOMS: As you have seen from the Casa's website, it has a capacity to provide lodging for just over 100 people. There are 75 rooms altogether, most being single although there are many double rooms as well. Each room is equipped with its own private bathroom, which is clean, modern, and fully equipped. They provide the usual basic toiletries-- towels, soap, and packets of shower gel and shampoo. Since it is not a hotel, there is no room service to clean the rooms so each person is responsible for cleaning their own room, but additional towels or other items can be provided if needed.  
The rooms are distributed on 3 floors. There is an elevator, which only goes up to the second floor. So anyone staying on the 3rd floor should be in sufficiently good shape to climb one flight of stairs--not that there are that many, but it should be born in mind.
b) FOOD: The food was EXCELLENT. The Casa provides breakfast, lunch, and dinner, as well as a mid-morning coffee and pastries and a late afternoon merienda, consisting of coffee or tea and other more substantial snacks. All the food is cooked on the premises by local staff and for this reason they are very strict about the times for lunch and dinner. Lunch is always served at 14.00h and dinner is always served at 21.00h. They are more flexible about the times for breakfast and the two coffee breaks. For instance, I ate breakfast every day at 8.30. 
Lunch and dinner were excellent home-cooked Spanish meals consisting of 3 generous dishes: two delicious starters followed by the main dish, dessert (typically fresh fruit and yogurt), followed by coffee or tea. Dinner and lunch included all kinds of beverages, typically, water, juice and wine. (I ate so well I was sorry to go home!)
They are very modern and accommodating of people with any type of special dietary restrictions, so there would be no problem accommodating people with lactose, wheat, pork or other intolerances. We would just have to let them know in advance who the people are so that their meals can be planned accordingly.
c) CONFERENCE HALL: We would be using the main conference hall, which is large, modern, air-conditioned, and seats over 100 people. It is fully equipped for people to show slides and make presentations. It has great acoustic features so anyone seated in the back can hear as if they were seated in the front.  If we think the room is too narrow for the poster session, we could make use of the main patio space or one of the other smaller rooms.
3) PRICES: Again, I refer you to the website to see the difference between a single and double room. They also ask whether people want a half or full pension, meaning whether they will eat only breakfast or have all their meals there. It definitely makes sense to eat there. The best thing is that the full price that I paid of 55€ per day included ALL the meals, breakfast, lunch, dinner, and the two snacks. For that same price, we will also have full use of the Casa, meaning that there will be no additional price to pay for using the conference hall or any other rooms for our Symposium. This means that the place will be very economical for everyone, especially for graduate students who may want to share a double room.
4) MONUMENTS: As mentioned, the city of León is located only about 6 km away from the Casa. León has 2 of Spain's most spectacular monuments that would be interesting for us to visit: the Gothic Cathedral and the Colegiata Real and Basilica of San Isidoro with its magnificent Royal Pantheon.  The Cathedral costs 4€ per person, with an additional 3€ to visit the cloister. 
The visit to the Real Colegiata de San Isidoro costs 4€ per person for groups (see information about the entrance fees). The San Isidoro complex also has a hotel and a wonderful restaurant, which would be a great place to have a special dinner. Leon retains many sections from the medieval period and the distance between the two monuments is only about 10 minutes on foot.
More information about this event…
At the 2018 IMSSS Symposium in Bristol, Anne Thayer shared her reminiscences of the Society's founding Secretary, Phyllis Roberts, who had passed away earlier in the year. Phyllis had been an outstanding scholar and an even more superlative colleague and mentor to sermonists young and old, and Anne spoke for all of us in expressing our collective affection and sense of loss. The symposium was dedicated to Phyllis's memory.
The link address is: https://www.youtube.com/watch?v=ZUTXCuirb7w